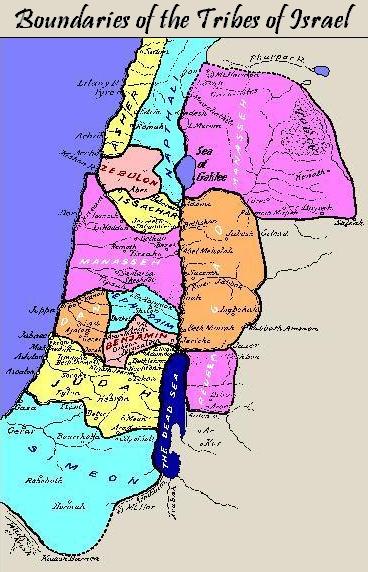 w
The eventual territorial area of Israel, in our day, will comprise the areas occupied by the 10 nations mentioned in Genesis 15:19-21: ...the Kenites, Kenizzites, Kadmonites, Hittites, Perizzites, Rephaites, Amorites, Canaanites, Girgashites and Jebusites.
TRIBAL BOUNDARIES
Ezekiel 47:13 "These are the boundaries by which you are to divide the land for an inheritance among the twelve tribes of Israel, with two portions for Joseph. 14 You are to divide it equally among them. Because I swore with uplifted hand to give it to your forefathers, this land will become your inheritance. 15 "This is to be the boundary of the land: "On the north side it will run from the Great Sea by the Hethlon road past Lebo Hamath to Zedad, 16 Berothah and Sibraim (which lies on the border between Damascus and Hamath), as far as Hazer Hatticon, which is on the border of Hauran. 17 The boundary will extend from the sea to Hazar Enan, along the northern border of Damascus, with the border of Hamath to the north. This will be the north boundary.
18 "On the east side the boundary will run between Hauran and Damascus, along the Jordan between Gilead and the land of Israel, to the eastern sea and as far as Tamar. This will be the east boundary.
19 "On the south side it will run from Tamar as far as the waters of Meribah Kadesh, then along the Wadi of Egypt to the Great Sea. This will be the south boundary.
20 "On the west side, the Great Sea will be the boundary to a point opposite Lebo Hamath. This will be the west boundary.
Gaza
Gen 26:1 Now there was a famine in the land--besides the earlier famine of Abraham's time--and Isaac went to Abimelech king of the Philistines in Gerar. 2 The LORD appeared to Isaac and said, "Do not go down to Egypt; live in the land where I tell you to live. 3 Stay in this land for a while, and I will be with you and will bless you. For to you and your descendants I will give all these lands and will confirm the oath I swore to your father Abraham. 4 I will make your descendants as numerous as the stars in the sky and will give them all these lands, and through your offspring all nations on earth will be blessed, ...NIV
.